Guide on how to install and configure the cache plugin
A cache plugin generates static pages and improves the site pagespeed. The cached pages are stored in the memory and when a user makes a request the pages are delivered from the cache. By this the php execution and the database requests are skipped.
Plugin installation:
Go to wp-admin area, open the Plugins -> Add new section. Press on the Upload Plugin
Use the search bar to look for WP Super Cache and install the plugin.

Plugin configuration:
To set the plugin you have to go to wp-admin area and open the plugin settings pane, it's located in Setting->WP Super Cache. We tested this plugin and we recommend the following configuration:
Easy
Advanced – enable the following options:
Caching:
Cache hits to this website for quick access. (Recommended)
Use PHP to serve cache files.
Miscellaneous:
Compress pages so they're served more quickly to visitors. (Recommended)
304 Not Modified browser caching. Indicate when a page has not been modified since last requested. (Recommended)
Don't cache pages for known users. (Recommended)
Cache rebuild. Serve a supercache file to anonymous users while a new file is being generated. (Recommended)
Advanced:
Mobile device support. (External plugin or theme required. See the FAQ for further details.)
Clear all cache files when a post or page is published or updated.
Only refresh current page when comments made.
List the newest cached pages on this page.
Expiry Time & Garbage Collection:
Cache Timeout: 0 seconds
Clock: 00:00 HH:MM
Interval: Once Daily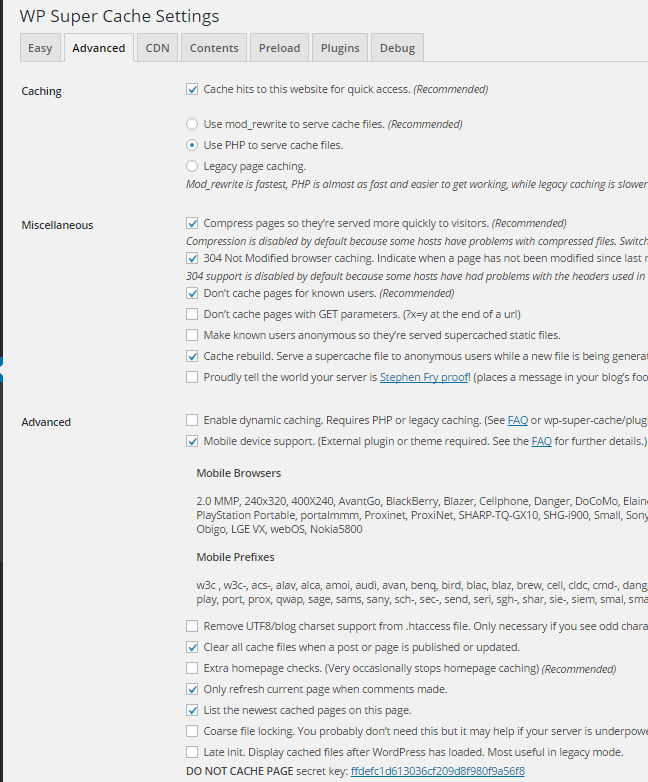 Preload is set like this:
Refresh preloaded cache files every 0 minutes (0 to disable, minimum 30 minutes.)
Preload all posts.