Tutorial level: basic HTML and CSS
User engagement is maybe the most important indicator of success for any WordPress news website or blog. Every one of us wants active users eager to spark the conversation online, not only providing comments on your content, but also help drive more visitors to your website.
Now, I'm sure your website looks amazing and your content is excellent, but what's the secret ingredient to transform visitors into 'ambassadors' in the online environment? Well, a strong call to action message well placed – as close as the desired 'trigger'- is a very good place to start.
In this article, we'll show you in five easy steps how to add buttons inside your post content to give your users the opportunity to engage and interact with your content.
There is no limit to what kind of content you can add on a button, so feel free to get creative with your Call to action.
The first and most important step is to select the text you want to convert into a button and select the preferred type of button from the 'formats' drop-down: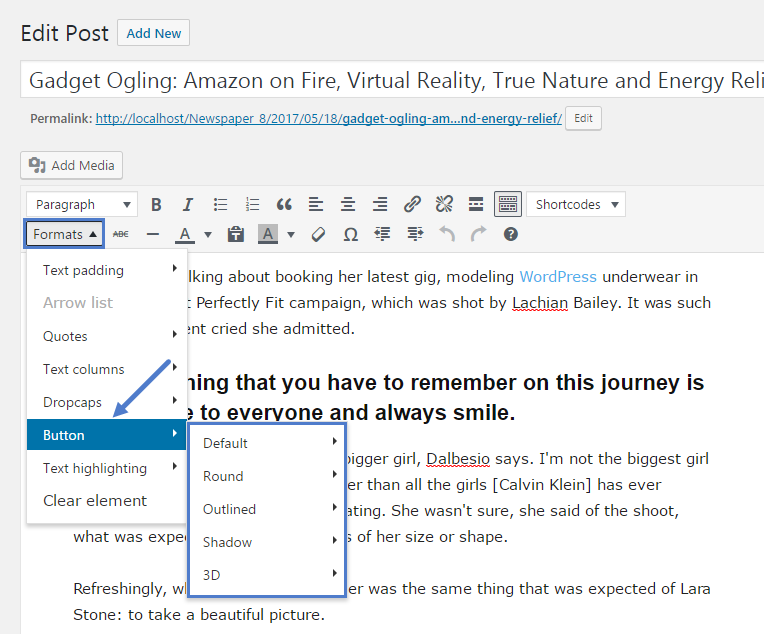 Pick one of the five styles for your button:

The button will span across the whole selection you made, spacing included, so the selection is a very important process. You can also create an inline button as it has no limitation in this regard.
The button style is added using the MCE editor after you create the button.
The default color of the button will be the theme's accent color set in the theme panel > theme colors section.
A custom background color or text color can be added from the MCE editor to each button in particular:

The button URL is added through the MCE editor as well, just as any inline URL. After you create the button and select the wanted colors and design, select it and press the hyperlink button in the MCE editor: