Newspaper theme allows you to set your logo as an image file or a text. It is only required to upload one logo and it will be used in every location. Newspaper is retina ready, so your have an additional option to upload a retina logo for high resolution devices.
How to add a logo:
If you use a Cloud Library template and the Header manager, the logo must be added to the tagDiv Composer Header Manager using the "Header Logo" element.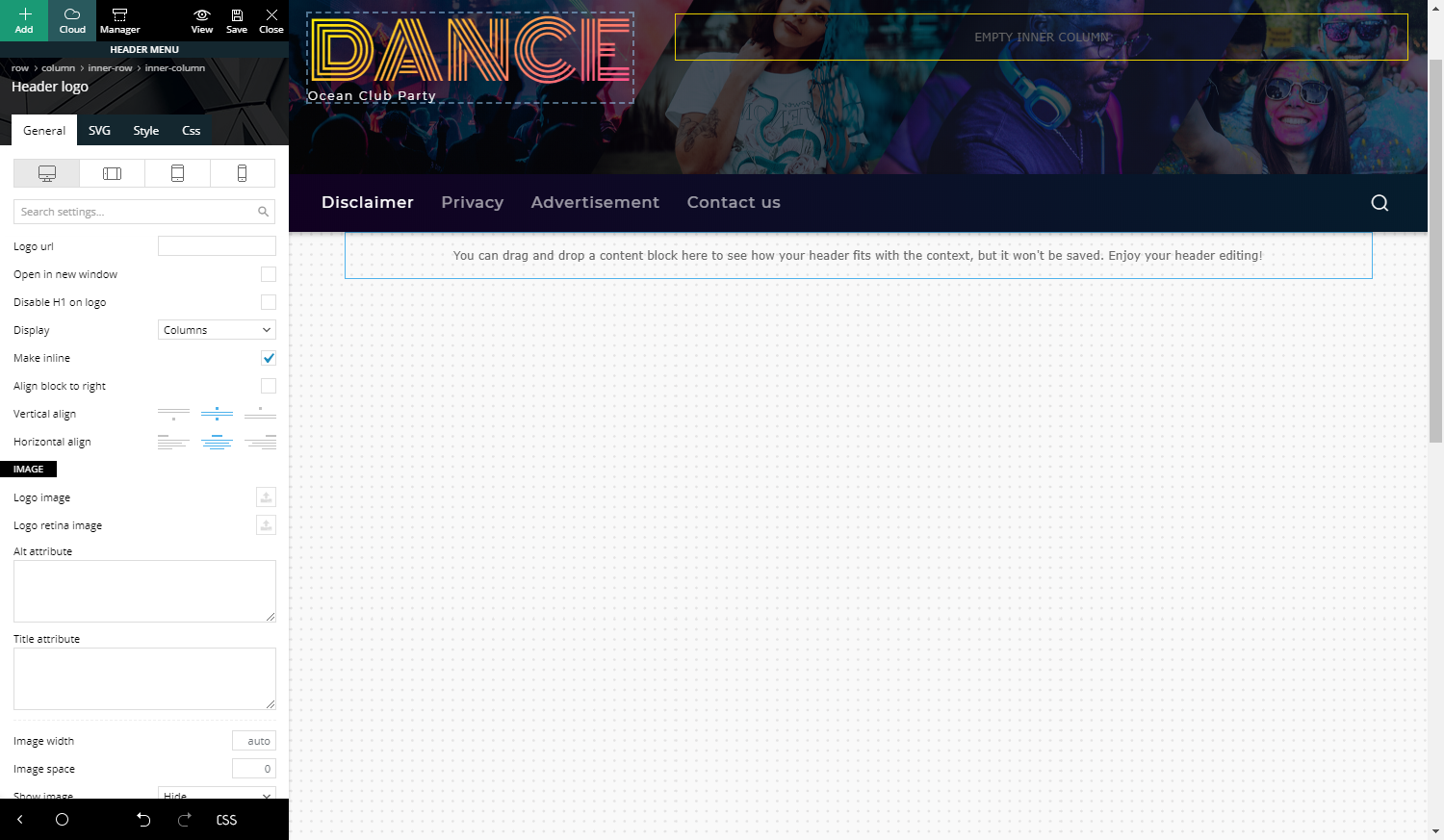 You can choose a text logo or upload an image as your logo. You can also upload a retina logo, add a custom logo URL, choose the alignment, choose a custom size, add alt and title attributes as well as select icons to add next to your logo.
When using the default templates, you have to upload your logo in the Theme Panel > Header section. Expand the Logo & Favicon section and use the available options: Logo upload (default logo for desktop), Retina Logo Upload (Retina Version for retina ready devices) and Favicon (optional).
The image Logo must be a .png or .jpg file.The text logo can be used only for Cloud Library header styles or for Header Styles 9, Style 10 and Style 11.
Note: if you have a logo uploaded any text logo will be ignored.
After finishing the upload click the Save Setting button.
If you do not set any retina logo, the site will load the normal logo on retina displays. The retina logo must have the same file format and to be double in size with the normal logo.
Logo for mobile:
You can optionally load a different logo on mobile phones and small screens. Usually the logo is smaller so that it can fit in the smart affix menu.
When using the Header Manager, in order to add a logo to the mobile menu, you will have to select the mobile menu zone and use the "header logo" element exactly as for the desktop header zone.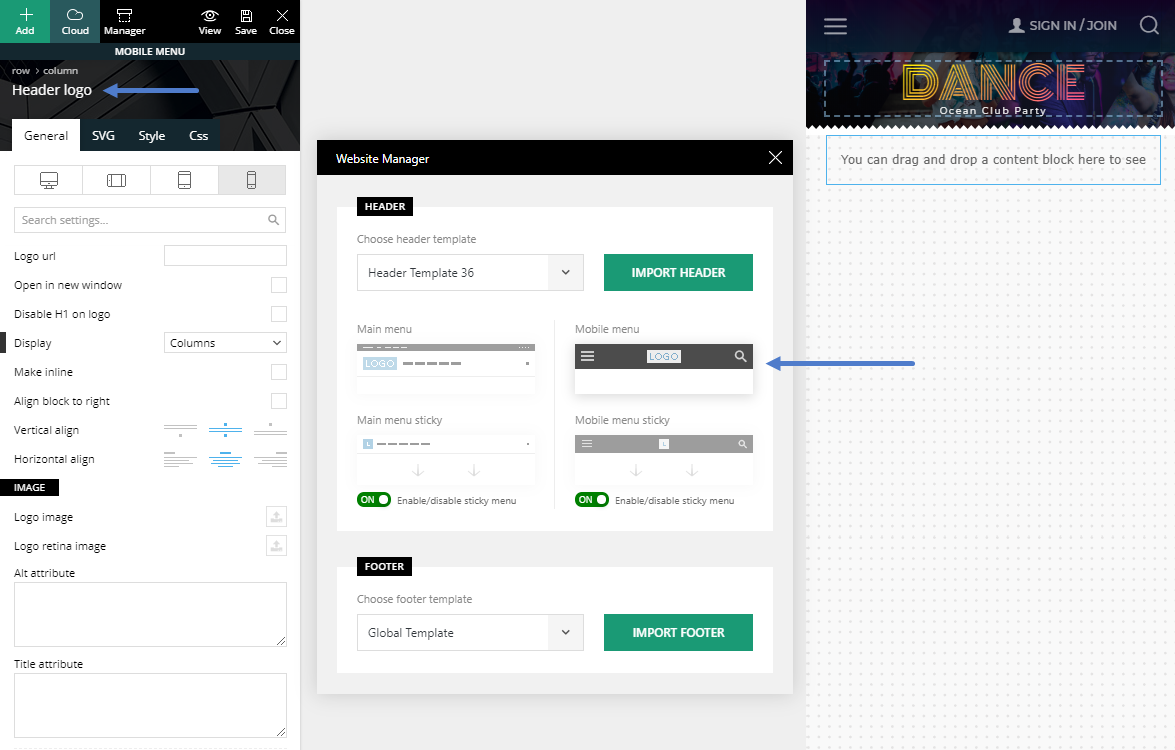 If you do not use a cloud library header, you can set the mobile logo in the theme panel using the "Logo for Mobile" option.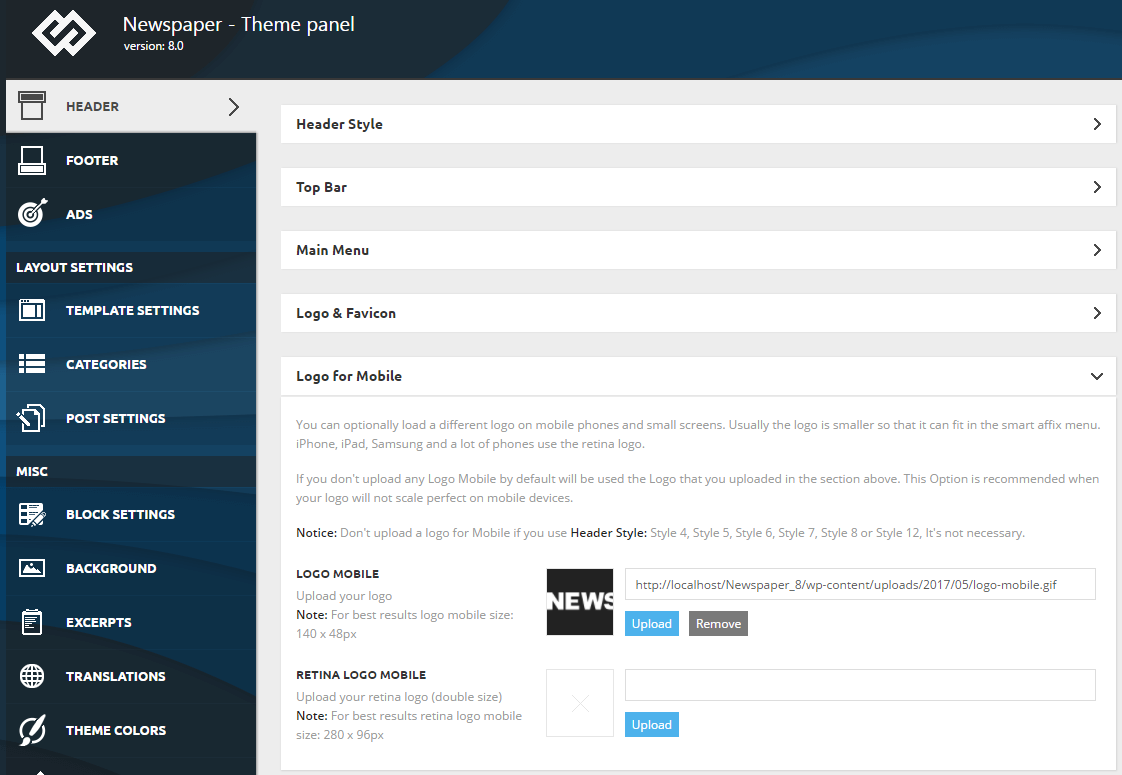 iOS Bookmarklet:
The bookmarklets work on iOS and Android. When a user adds your site to the home screen, the phone will download one of the icons from here (based on the screen size and device type) and your site will appear with that icon on the home screen.
In this section you can upload the icon you would like to be displayed. The icon must be a .png file.