The Newspaper theme comes with 12 footer styles. You can now customize the footer by adding text, widgets or social icons, and maximize your website's impact on the audience. The footer uses the widget area to display information.
Another easy alternative to creating a beautiful Footer section is to use the Footer page functionality. This setting allows you to use a full page instead of a predefined footer template.
How to Setup the Footer using the Footer page:
The footer settings also allow you to use a full page instead of a predefined footer template. This can be accomplished by using the footer page setting: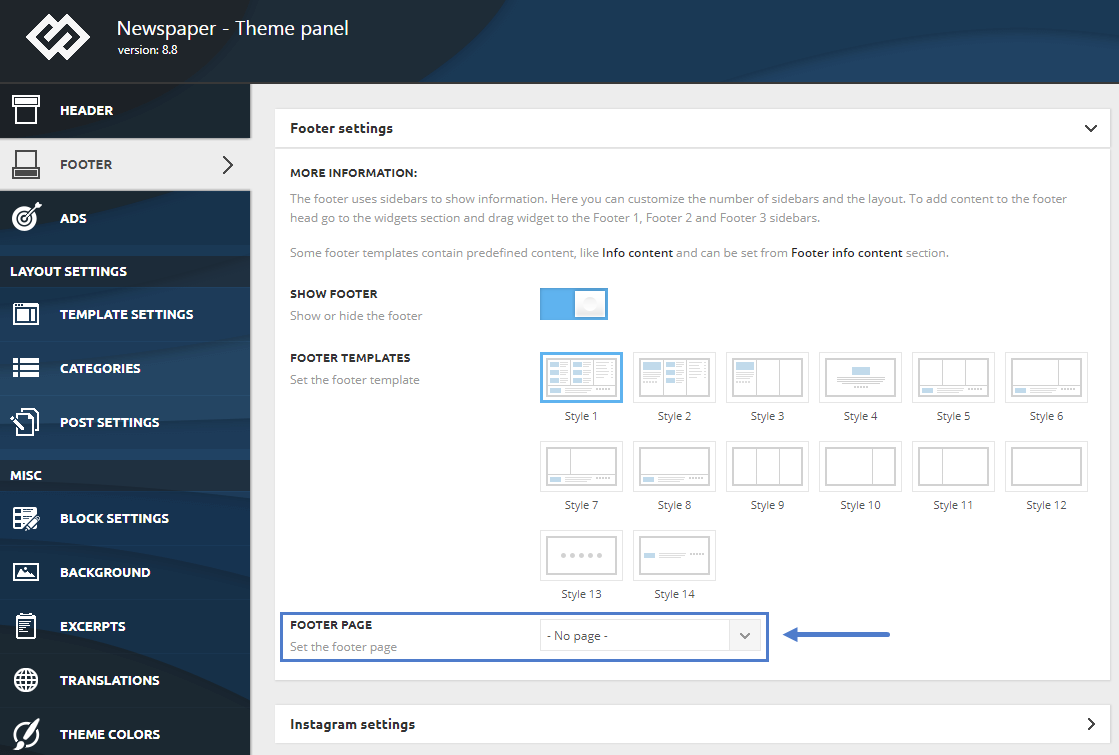 You can import a footer from the Cloud Library or create a page from scratch in the tagDiv Composer with the layout and elements you want to show in the footer and then select it as your footer page.
Give it an appropriate name such as "Footer," or "Footer Design". Then open the tagDiv Composer on it. Bring items to the page, split the row into columns if you want, however, remember that everything this page contains is your new footer. This will override the footer template and show your custom designed page instead.
Here are a few elements you could add to the footer straight from the tagDiv Composer:
A List Menu
Column Title
Social Icons
Inline Text / Column Text
Instagram
Header Logo
Newsletter
Call-to-Action / Button
In order to make it very easy to create your Footer section, we recommend importing pre-made Footer templates from our Cloud Library section which you can easily edit it with TD Composer. We recommend this way if you do not want to start the template from scratch.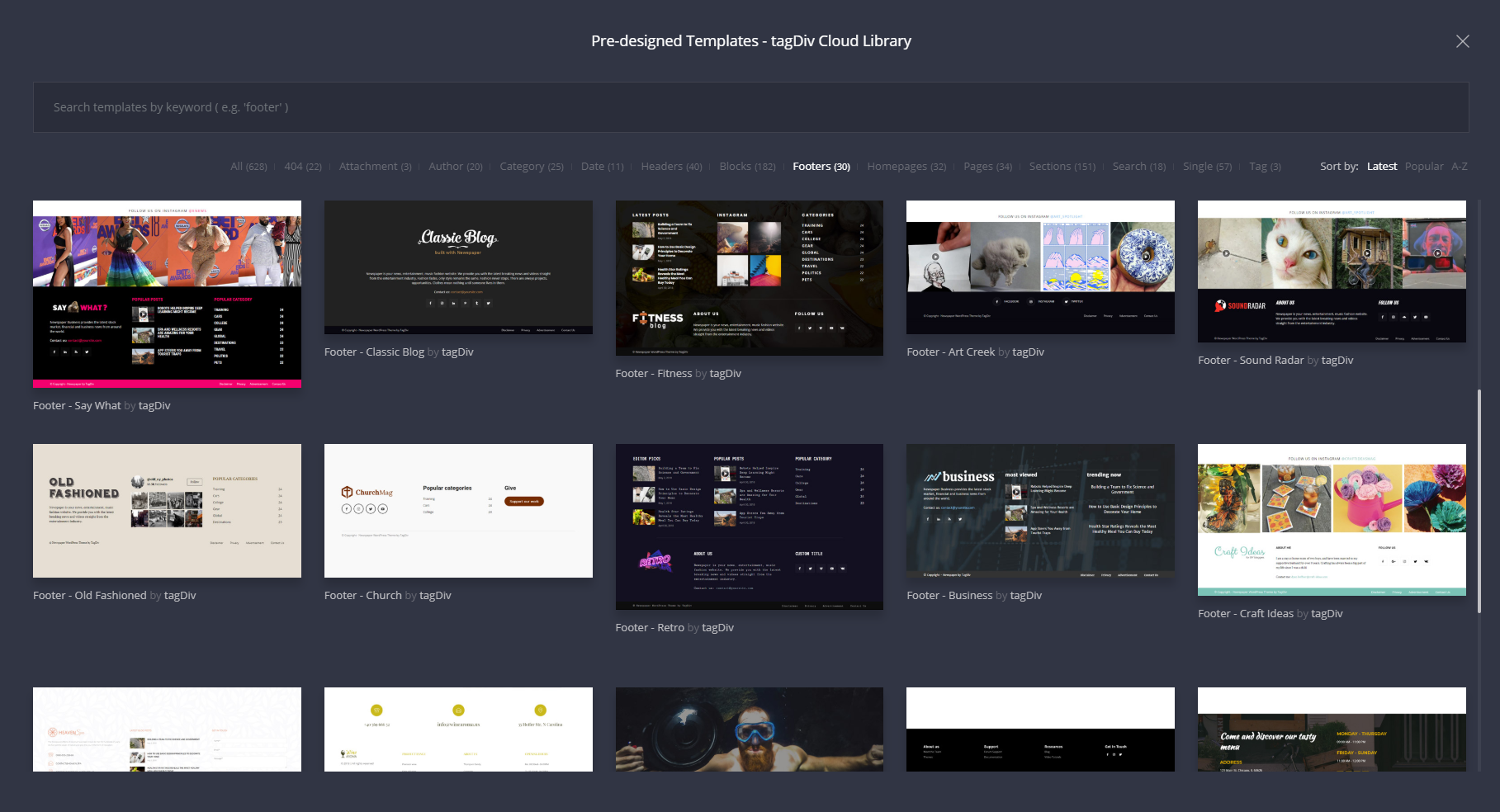 Please note that the Subfooter section can be directly created in this page and it's not necessary to add that section from the Theme panel.
Now that your design is finished let's not forget the crucial part: assigning the page as Footer. Navigate to the Newspaper Theme Panel. In the Footer section, under the Footer Page, open the drop-down menu and choose the page you have created in the first step. Save your settings, and the footer is now going to appear site-wide. Great job!
How To Setup The Footer using Default Styles:
Step 1 – Navigate to Newspaper > Theme panel > Footer > Footer settings panel to access the footer options. You will see 3 sections.
Step 2 – Expand the Footer Settings section and select a Footer template. All options will automatically load based on your selection.
Step 3 – Click the Save Settings button
Types of content you can use
Predefined content:
Some footer templates contain predefined content like the Footer info content that can be set from its section located in Theme Panel. To add this type of content go to the Theme panel > Footer > Footer Settings > Footer Templates and choose the desired style.
To customize the content from Info content you need to go to Theme panel > Footer > Footer Info content section and add your desired information.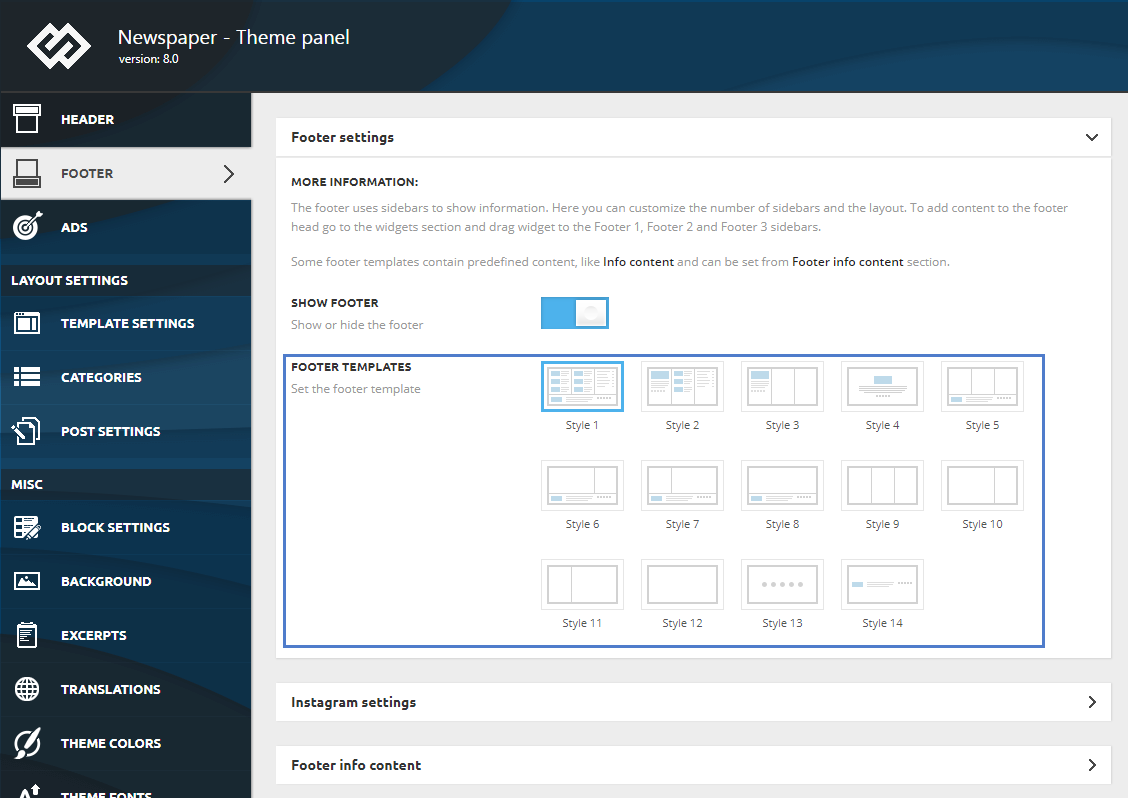 Custom content:
To add your own footer content:
Step 1 – Go to Appearance > Widgets
Step 2 – Here you will find 3 sidebars: Footer 1, Footer 2 and Footer 3.
Step 3 – Drag the widgets you like in each Footer sidebar.
Note: Style 1 to Style 5 are designed to populate the footer with predefined content. If you decide to add custom content it will be added after the predefined content.
Footer info content:
As you already noticed, this set of options is quite important in the construction of your footer. Go to Newspaper > Theme Panel > Footer and expand the Footer Info Content section to begin customizing this area.
In this section, you can add a footer logo, a retina logo, and a descriptive text. You can also set up your email address and you can decide if your footer will display the Social Icons.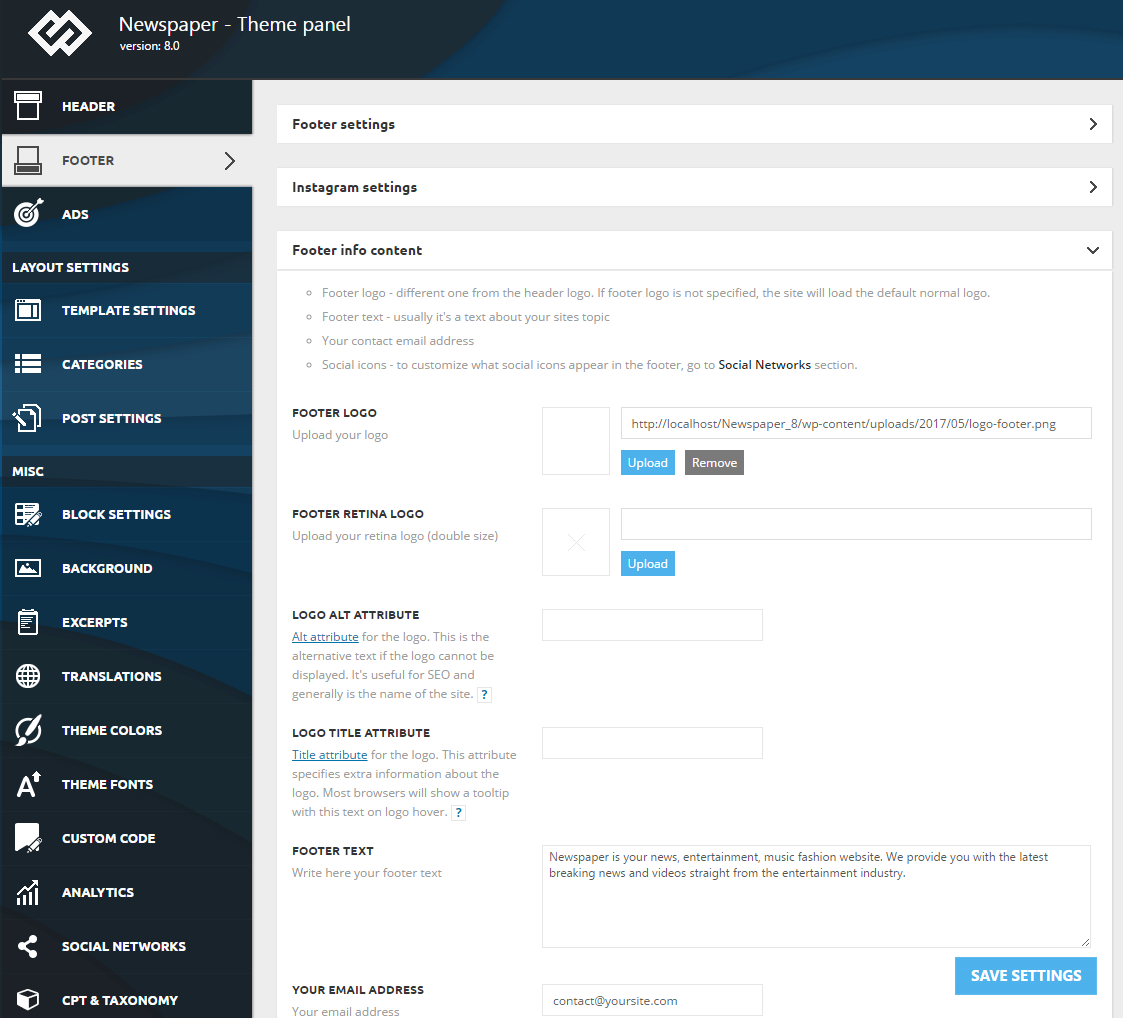 Subfooter settings:
The sub-footer section usually includes a copyright text and a menu that is positioned on the right. Go to Newspaper > Theme Panel > Footer and expand the Subfooter settings section.
In this panel, you can assign a copyright text very easily and you can choose to display the copyright symbol.
The most important option in this section is the Footer Menu. You can assign a menu to your sub-footer.